The journey so far – 1964-2014
It has been an incredible journey – and it is far from over. This year, Barbour Fit Out Specialists celebrates 50 years of shopfitting. Our first sale in 1964 was for a dozen modular shelves for a fruit shop in Glasgow for a mere 14 shillings (70p in today's money). We've come a long way since then!
James Booth Barbour, the Glasgow based founder, was only 24 when his enterpreneurial spirit drove him to start Barbour Fit Out Specialists. JB, as he is affectionately known, still keeps a watchful eye on the business today and ensures his three sons continue to deliver a high quality service to all our clients.
All three sons remain committed and dedicated to our shopfitting business: Norrie as Managing Director, Kenny as our Finance Director and Alan as our Estimating Director.
Our first premises were in Glasgow's South-Side, where we rented a shop before transforming it into a showroom. We later acquired the shop and expanded by purchasing an adjacent bakery factory which we converted into a joinery workshop. We continued to expand by acquiring the firm's first multi-use vehicle – a grey Morris Minor, fondly named Sputnik.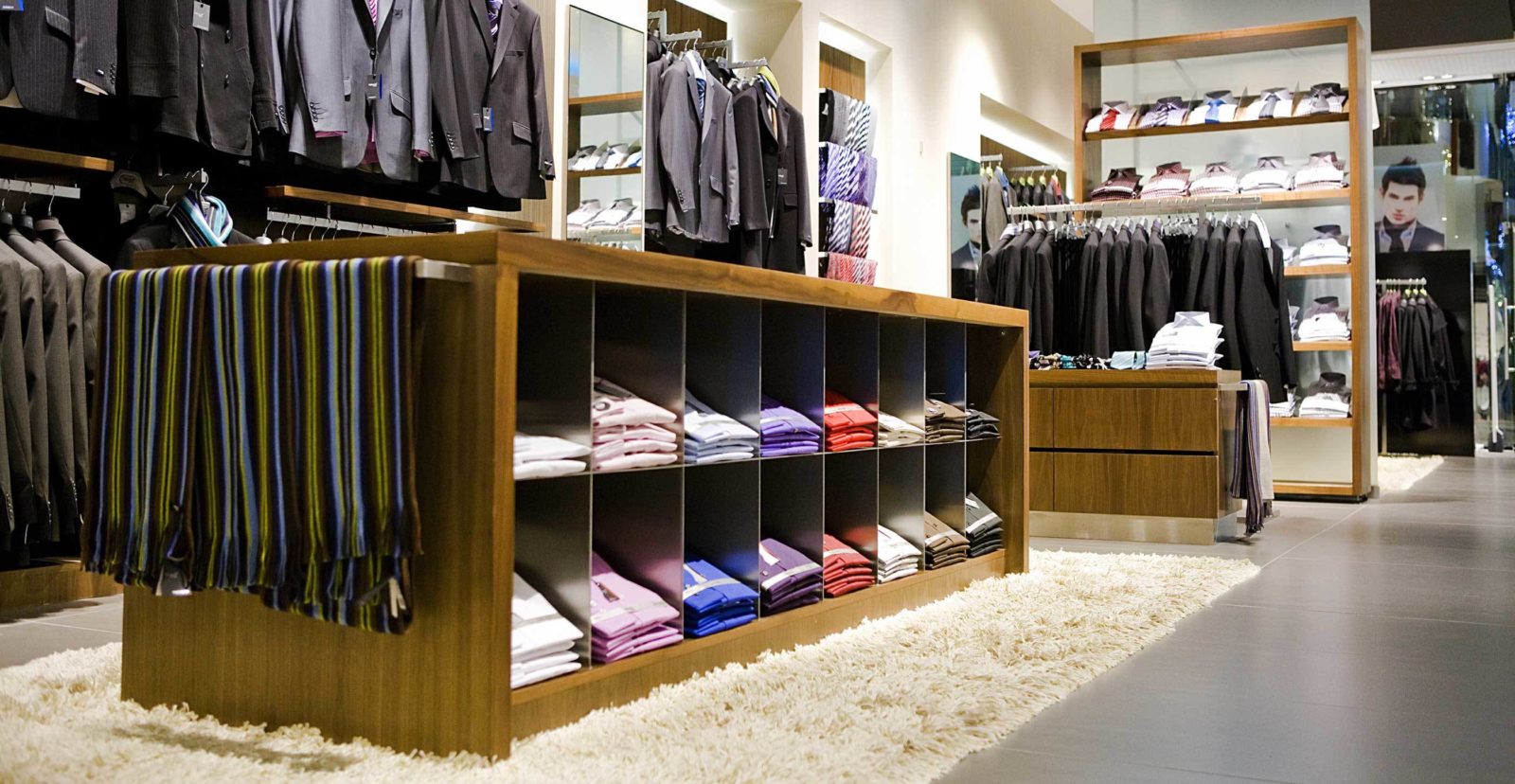 Expanding our shop-fitting services
In 1969 we broadened our geographical reach and secured a prestigious contract with the Co-op, servicing all its stores, from Clydebank to Argyllshire as well as on Mull and Islay. This was the time when stores were converting to self-service, so JB multi-tasked and was involved in everything from drawing up the shopfitting plans to estimating the work.
Our move into manufacturing saw further expansion of our premises, the recruitment of more joiners and the need to introduce an apprenticeship scheme.
Today, we continue to provide hands-on, high quality manufacturing for our fit-outs and have acquired exceptional knowledge throughout our 50 years of existence. Our passion and skill is applied to every job we do, from display stands to reception desks; cabinets to counters; preparation to completion. Everything we do is laced with care and attention to detail
Long-standing clients, thank you!
We appreciate how our business has grown and changed with your help and we now continue to offer our high quality service to a wider spread of retail, corporate and commercial clients.
Our client base grows stronger each year, with established brand names such as Victoria Wine, Henderson the Jeweller and Dollond & Aitchison. We have fitted out more than 20 bakers across Scotland, including Aulds, Bradfords, Goodfellow & Steven and Greggs as well as numerous chemists and opticians. Our retail clients include Debenhams, The White Company, Next and New Look.
Thank you to all our clients for your loyalty and support and here's to the next 50 years.
Loyal staff
All our valued employees have played a vital role in the development of our business. Our apprenticeship scheme has enabled us to train many joiners and we are proud to recruit for new apprentices each year.
Sheba, our black Labrador, joined our company and family in 1983 and her successors continue to attend many production meetings!
We've also worked with many suppliers over the years, including Darwin Brand Consultants who have been instrumental in helping us with our 50th anniversary literature.
We are very proud of our family run company and the commitment to quality that was instilled in the fruit shop in 1964 firmly remains today.
If you would like a copy of our 50th celebration brochure to read more about our journey over the past 50 years, then please email us today on enquiries@barbourfitout.co.uk. Or follow or like us on Twitter, LinkedIn or Facebook.